Non-Producing Acreage?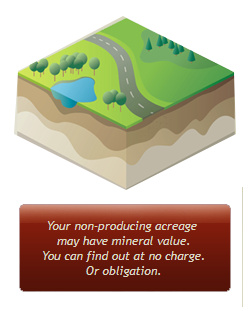 Considering Selling Your Non-Producing Acreage?
We purchase non-producing minerals and would like the opportunity to evaluate all of your holdings.
If you might have an interest in selling, please contact our office for a quote. All at no charge or obligation.
Call us at 214-361-5949 and we'll get started.
Your non-producing acreage may have mineral value. You can find out at no charge. Or obligation.
Once you decide to sell, no one makes the process easier.
Let us help you gather what you need from your current operator.
You can sell a portion of your large account and keep the rest.
Depending on size and location we also buy non-producing property.
Attention Lease Operators and Landmen: