How to Consolidate Your Royalty Accounts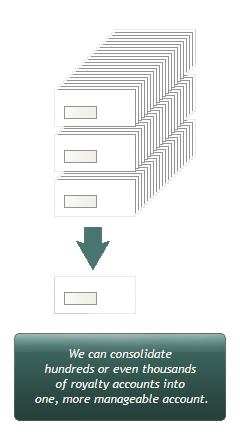 Here's a smart idea: Let us do the work. For free.
Royalty Account Solutions, L.P. (RAS), our sister company, has helped many operators reduce the number of royalty payment accounts in their system by following a simple, proven process:
RAS covers 100% of the expense.
RAS will mail customized purchase offer letters to all owners in your royalty owner database,
or any portion of your database you choose.
RAS will advertise to sellers with a pre-printed message on the bottom of your royalty check
stubs each month.
RAS works to complete the transaction through a valid deed and title transfer.
To learn more about Royalty Account Solutions, L.P. click here. Or call our offices in Dallas at 214-361-5949.
We can consolidate hundreds or even thousands of royalty accounts into one, more manageable account.
Once you decide to sell, no one makes the process easier.
Let us help you gather what you need from your current operator.
You can sell a portion of your large account and keep the rest.
Depending on size and location we also buy non-producing property.
Attention Lease Operators and Landmen: